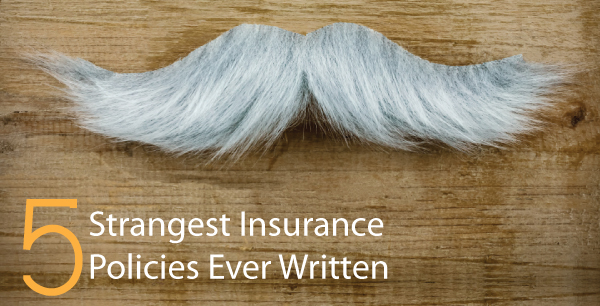 Insurance doesn't only just have to be for protecting your home, auto, family or your business.  Insurance is available for protection against almost anything as long as it poses a potential financial impact and you are willing to pay the associated premiums.
Below are five examples of the most unusual types of insurance policies ever written.  They range anywhere from insuring a mustache, catching the Loch Ness Monster, or unexpected twins.
While we would certainly welcome the opportunity to write insurance for catching mythical creatures, our expertise will always be in protecting you and your family.
If you ever have a question or concern with your own policy, please don't hesitate to reach out to our office.
---
1. Protecting Your Investment
It's not uncommon for companies to pay celebrities a lot of money to promote their products.  However, did you know those same companies often take out insurance policies on the endorser just in case something happens?
For example, Head & Shoulders insured Troy Polamalu's hair for $1 million and Braun insured Heidi Klum's legs for $2 million.
Also, while playing on Australia's national cricket team from 1985 to 1994, Merv Hughes took out an estimated $370,000 policy on his trademark walrus mustache
2. Insuring Against the Improbable
There are a variety of strange policies available to protect yourself, your family or your company from improbable events. For example, expectant parents have taken out insurance policies to cover the potential financial impact of surprise twins or triplets.
One company purchased an insurance policy as a hedge for a promotion that offered one million pounds for anyone who could capture the Loch Ness Monster.There are even policies available for employers where two or more of their staff win the lottery and do not return to work.  The coverage helps the employer to replace them.
 3. Safeguard the Senses
In 2008, Dutch winemaker Llia Gort insured his nose for $8 million.  Gort claimed his nose could distinguish millions of different scents.  As a condition of the policy, Gort is prohibited from winter sports, boxing or fire breathing (yes, fire breathing).
Not to be outdone, chief taster Gennario Pelliccia insured is tongue for $14 million in 2009.
4. Preserving Valuable Assets
Entertainers and professional athletes will often take out insurance policies against the potential loss of income if they're unable to perform due to injury or other accident.
Soccer star David Beckham had his legs insured for $70 million while "Lord of the Dance" Michael Flatley insured his for $40 million.
Music legend Bruce Springsteen insured his voice for $6 million and KISS front man Gene Simmons covered his tongue for $1 million.
5. Insuring A-Listers
Award shows consist of much more than just the red carpet and acceptance speeches.  For example, Lloyd's of London not only insures the Oscars show itself, but also provides over $40 million in coverage for the jewelry adorning all of the guests.
They have also insured a variety of unique items for movie stars.   They have provided coverage against an actor's eyes becoming uncrossed (they never did), actresses' legs, a waistline, and even a mustache.
One studio even took out an insurance policy against the possibility that one of its actresses would get married before her contact was up.
https://chadholste.com/wp-content/uploads/2019/02/The-Holste-Agency-2.png
0
0
webcontroller
https://chadholste.com/wp-content/uploads/2019/02/The-Holste-Agency-2.png
webcontroller
2020-04-28 05:30:00
2020-01-23 05:58:54
5 Strangest Insurance Policies Ever Written