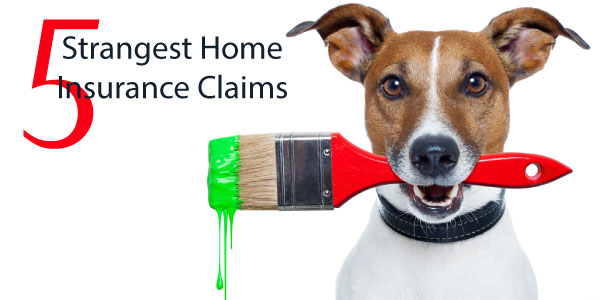 When real disaster occurs, insurance provides a vital and necessary lifeline that helps policyholders regain their footing and start life over.
And thankfully most of the time, home insurance claims are fairly routine affairs involving some sort of property damage (typically storm related). Weird, off-the-wall home insurance claims simply don't seem to happen that often.
When strange home insurance claims do happen, though, they are truly bizarre. Below we have included the stories from the top five strangest home insurance claims we've ever come across.
Also, please remember that you can always contact our office for any home insurance claim you encounter—no matter how strange it may be. Our office will be glad to assist.
Claim 1: But the floor was made of wood. A woman turned her hardwood floor into a bowling alley to practice her game. She quickly found that her grand idea couldn't spare her floors from being damaged. The owner filed a loss report with her insurance company claiming that the floor's damage was not the result of the heavy bowling ball, but due to the hardwood not being hard enough. Like a gutter ball, zero was the result of her claim.
Claim 2: New York man claimed that while cooking dinner, several pans on his wood stove ignited. While trying to extinguish the fire, he threw the first pan out the door, where it (conveniently) happened to land in the backseat of his convertible. While trying to throw out the second pan outside, he tripped and the pan landed on his sofa. His house and car burned to the ground. But where there's smoke, there's fire – suspicious of his story, law enforcement conducted an investigation and charged him with insurance fraud. He was left with no home, car, insurance money, and five years of probation.
Claim 3: The owner of a rental property visited the home to inspect it after renting it to some college kids for a few weeks. Not expecting much more than maybe some empty beer cans and some trash, the owner was stunned when he opened the door to his home and sand poured out. The renters decided to create an indoor beach and filled the house with sand and water. Insurance covered the claim but the moral of this story is: be careful who you rent to!
Claim 4: Dogs can do some amazing things, but painting is not one of them. One homeowner left a can of paint open on her floor while redoing her walls. Her dog stuck his tail in the can and then proceeded to drip, shake, and wag paint throughout the entire house. Her insurance company paid the claim, and her dog paid with a much-needed bath and well-deserved time out.
Claim 5: One "fishy" claim came from a man participating in a competitive billiards-type game of snooker. After taking a wild shot, the ball soared off the billiard table straight into an expensive fish tank. All fish were saved and his claim was paid.
https://chadholste.com/wp-content/uploads/2019/02/The-Holste-Agency-2.png
0
0
webcontroller
https://chadholste.com/wp-content/uploads/2019/02/The-Holste-Agency-2.png
webcontroller
2016-05-22 22:16:12
2016-05-22 22:16:12
Top 5 Strangest Home Insurance Claims